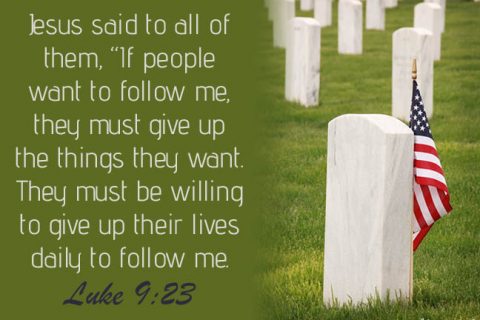 One of the major themes of this pandemic has been sacrifice. Some of the sacrifices have been vitally important, others less so. Healthcare workers have sacrificed their health. Neighbors have sacrificed their food. Graduates have sacrificed their ceremonies. People have sacrificed their vacations. Almost everyone has sacrificed something during these past several months for the common good and it hasn't been easy.
This Memorial Day, Americans pause to remember those in the Armed Services who paid the ultimate sacrifice for our country. While this pandemic has highlighted several of our nation's imperfections, we wouldn't even have a country were it not for the brave men and women that were willing to lay down their lives for us. So, while some of us might complain about some of the sacrifices we've had to make during this quarantine, let us remember the people who have sacrificed infinitely more than most of us will ever need to do.
As Christians, we are called to live a life of sacrifice. It's not an easy thing to do, but because we follow a God who was willing to pay the ultimate sacrifice for us by dying on the cross we are to be willing to do the same. Obviously, not all Christians will be martyrs, but we do have to sacrifice ourselves for the good of the Gospel mission, for the good of others, and for our own good as well. This is why Jesus says, "For whoever would save his life will lose it, but whoever loses his life for my sake and the gospel's will save it" (Mark 8:35). May we daily choose to sacrifice our own desires and our very lives for the sake of God's kingdom!