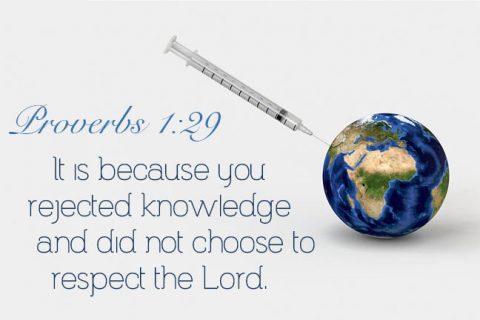 While the race is on for scientists to find a vaccine for this coronavirus, there is a growing movement of people that are already saying that they will not get the vaccine if/when it becomes available. There are a lot of different reasons why people have come to this conclusion from the increasing distrust of medical science to the desire to combat over-reaching authority to belief in conspiracy theories (often connected to Bill Gates and/or a New World Order). But whatever the reason, this minority has decided that rejecting the vaccine is for their best good.
The majority of people, who can't wait for a vaccine to become available, cannot really comprehend why anyone would reject something that would save their own life. To get a small needle prick in order to live without the fear of getting COVID-19 seems like a no-brainer. The majority has faith in science and believes that whatever scientists come up with will do what it's intended to do. So, this group is convinced that getting the vaccine is for their best good.
Unfortunately, these two camps seem to reflect the views that people have when it comes to God. One group has lost faith in Him and has decided that not having anything to do with Him is for their best good. The other group is convinced that He is the source of salvation and having a relationship with Him is a no-brainer. But God allows us to choose which camp we want to be part of. Even though He knows what is for out best good, He still gives us a choice. "Yet some people accepted him and put their faith in him. So he gave them the right to be the children of God" (John 1:12). May we make the right choice for our eternal good and choose to become a child of God!